The world's first foiling water taxi
P-12 lets up to twelve passengers experience electric hydrofoiling. With one electric pod motor, the P-12 can cruise in almost complete silence, without disturbing marine wildlife or sound pollution. The P-12 lets you get up close and personal with the best nature can offer.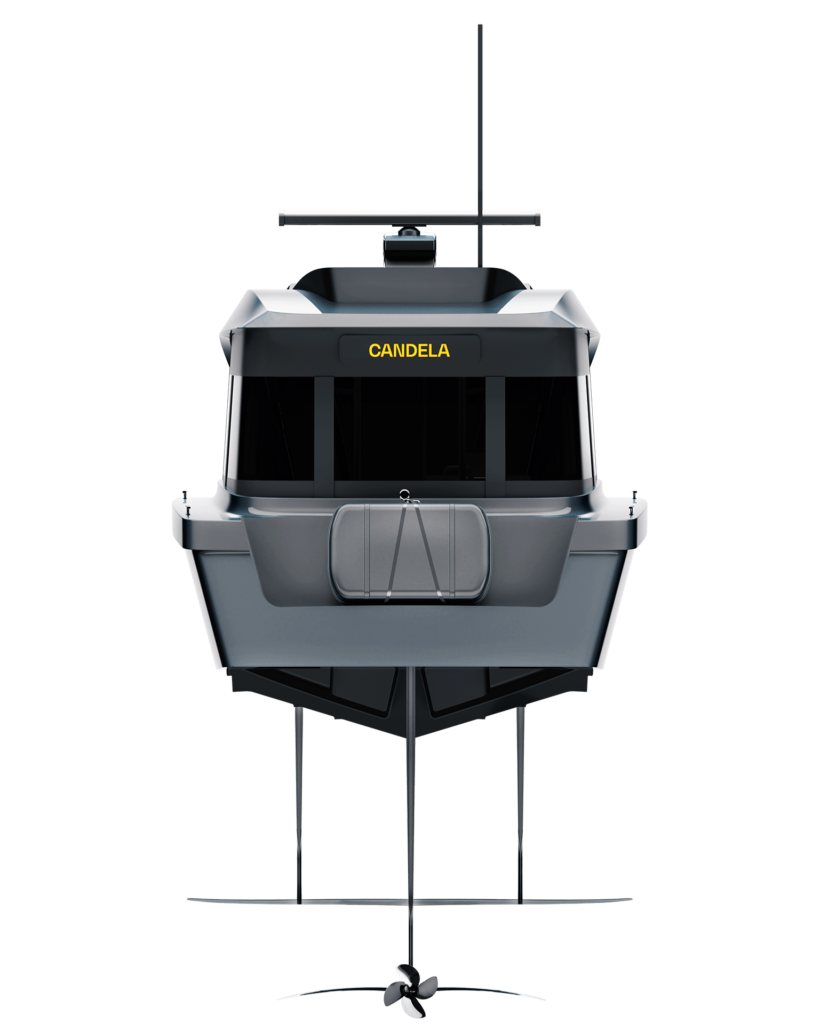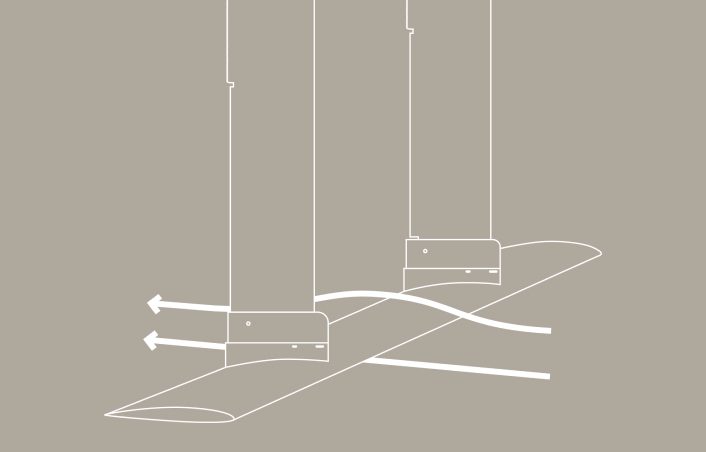 Whether you're looking for a comfortable taxi boat, a thrilling rib, or a sightseeing boat, the P-12 will outperform the competition. Flying above the wave crests at 30 knots without slamming or noise, it provides passengers a smooth yet exhilarating ride – especially in choppy seas. The climate shell is designed for panoramic views and ensures passenger comfort in conditions ranging from sub-zero temperatures to tropical heat.
90% lower operating costs*
Thanks to our market-proven hydrofoil-system, the P-12 consumes less energy per passenger than a family car. Even in markets where fossil fuels are subsidized, the Candela P-12 will be considerably cheaper to operate than comparable combustion engine vessels.
* = Assumed cost 0.6€/1l gasoline and 0.1€/kWh.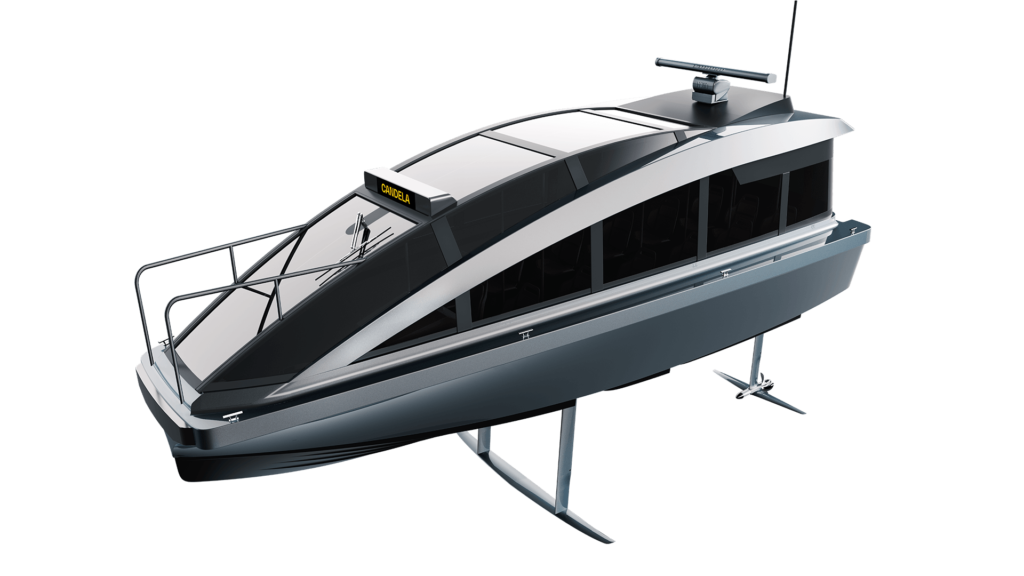 Disrupting, not disturbing
With up to 40 nautical miles of range at 20 knots, the P-12 is the first electric water taxi that can cover long routes at high speed. The complete absence of wake allows you to go fast where others can't, without disturbing the peace.
Our crafts are specifically designed to have a minimal impact on marine life. Candela's electric hydrofoil boats use 90% less energy than conventional crafts, and have the ability to travel far and fast on pure electricity. This implies a 100% reduction in emissions, particulate matter and NOx. At the same time, Candela's efficiency and maintenance-free electric pod motors reduces the operator's annual service costs by 80%.
Computer-controlled hydrofoils ensure a safe and smooth ride, even in rough seas. Candela's proprietary Flight controller has been extensively tested and validated since 2014. This means a 95% reduction of wave g force compared to conventional ships – and the very end of sea sickness.
No other electric water taxi can cruise for 2.3 hours at 20 knots. With a top speed of 30 knots and the ability to sustain it while foiling in choppy seas, the P-12 can outperform many faster crafts when the going gets rough – without sacrificing passenger comfort.
A new standard for energy consumption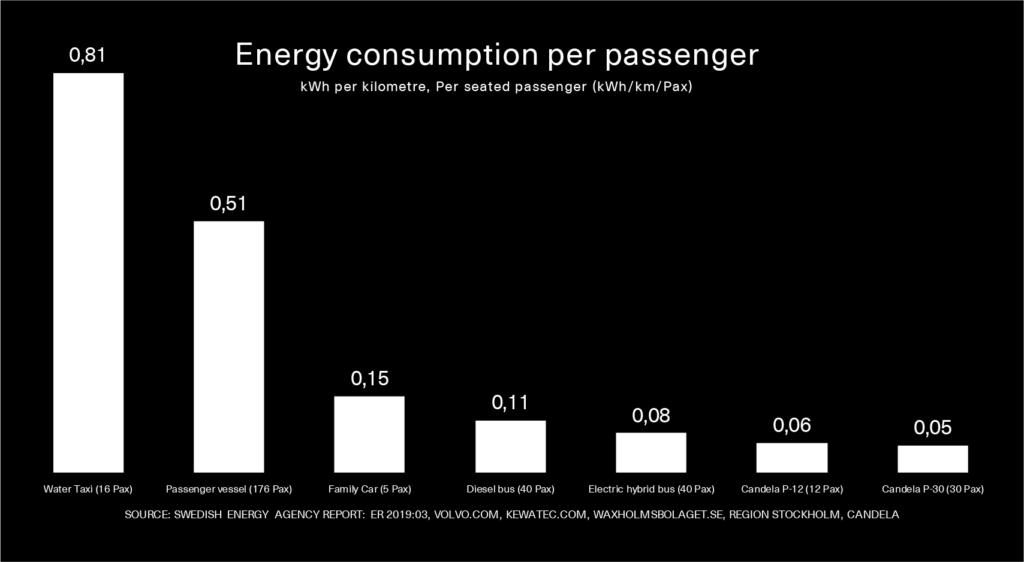 A comparison between the Candela P-12, our 8.5 meter boat for 10-12 passengers, and the most efficient light-weight water taxis of the same size.
| | Traditional water taxi | Candela P-12 | Reduction |
| --- | --- | --- | --- |
| Power needed | 258 kW | 44 kW | 83 % reduction |
| Energy consumption at service speed | 12 kWh/nautical mile | 1 kWh/nautical mile | 92 % reduction |
| Cost of fuel/electricity per hour at service speed | 15 € | 2 € | 87 % reduction |
| Service cost per hour | 5 € | 1 € | 80 % reduction |
Cutting-edge tech, already on the market
We're proud to be the proven leaders in marine electrification. Candela's electric foiling technology is already market-tested. The Candela C-7, the world's first and only electric foiling boat, has been in serial production since 2019 and is currently the best-selling electric boat in Europe.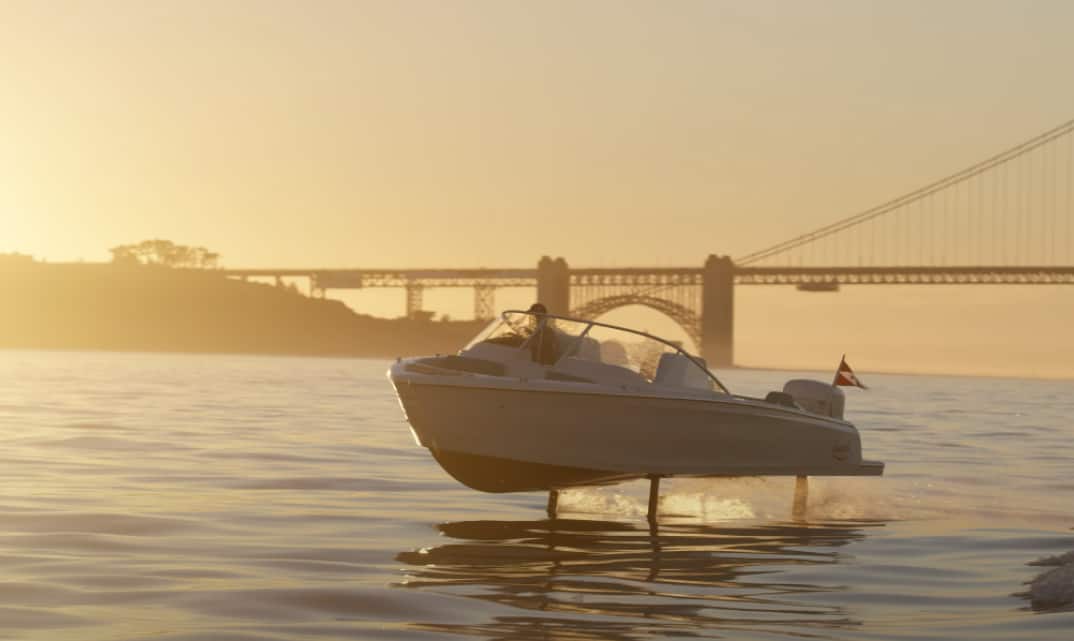 Do you want know more or hear how we can electrify waterborne transport near you? Fill out the form and our public transport team will reach out. If you prefer to send an email, instead, please reach out to erik.eklund@candela.com